As the winter chill sets in, there's nothing quite like the comfort of a warm, cozy bed. The right comforter can make all the difference, enveloping you in warmth and providing a haven of comfort for a peaceful night's sleep. Let's explore the top 5 coziest comforters that promise to make your winter nights more enjoyable.
Understanding Comforter Construction: Microfiber and GSM
Before delving into our top picks, it's essential to understand the key elements that contribute to a comforter's coziness. Microfiber, a synthetic material known for its softness and durability, is a popular choice for creating plush and warm bedding. Additionally, the GSM (grams per square meter) measurement indicates the density and thickness of the filling, providing insight into the insulation level of the comforter.
Now, let's dive into our top 5 comforters for winter:
Travel Comforters
Ideal for those on the move, Travel Comforters are designed to bring warmth to your adventures. Compact and lightweight, they are the perfect companion for chilly nights away from home.
Blue and Green Floral Microfiber Reversible Travel Comforter
Our Blue and Green Floral Microfiber Travel Comforter, with its 120 GSM filling, ensures comfort and style on your journeys, making every destination feel like a cozy retreat.
Wearable Comforters
Experience warmth like never before with Wearable Comforters.

Dark Pink Microfiber Solid Pattern Wearable Comforter for Adult
The Dark Pink Microfibre Wearable Comforter for Adults is not just a cozy layer but also a stylish accessory. With its solid pattern and 120 GSM microfibre filling, it provides lightweight insulation, allowing you to lounge comfortably while making a fashion statement during colder seasons.
Double Comforters
For those who love to share warmth, Double Comforters offer the perfect solution.
Blue and White Microfiber Hexagon Pattern Reversible Double Bed Quilt Comforter
Our Blue and White Hexagon Pattern Double Comforter is not just a bedding accessory; it's a style statement for your bedroom. The 150 GSM microfibre filling ensures a luxurious and cozy experience, making it an ideal choice for couples seeking both comfort and elegance.
Kids Comforters
Create a snug and playful haven for your little ones with Kids Comforters.
Blue And Green Double Print Pattern Baby Single Bed AC Quilt Comforter for Kids
Our Blue And Green Double Print Pattern Microfiber Comforter for Kids is designed with their joy in mind. The 120 GSM filling provides the perfect balance of warmth, ensuring a peaceful night's sleep while the vibrant colors and prints add a touch of fun to their space.
Weighted Comforters
Indulge in the soothing embrace of Weighted Comforters.
5Kg Weighted Grey Blanket Cotton Material with Premium Glass Beads Therapeutic Blankets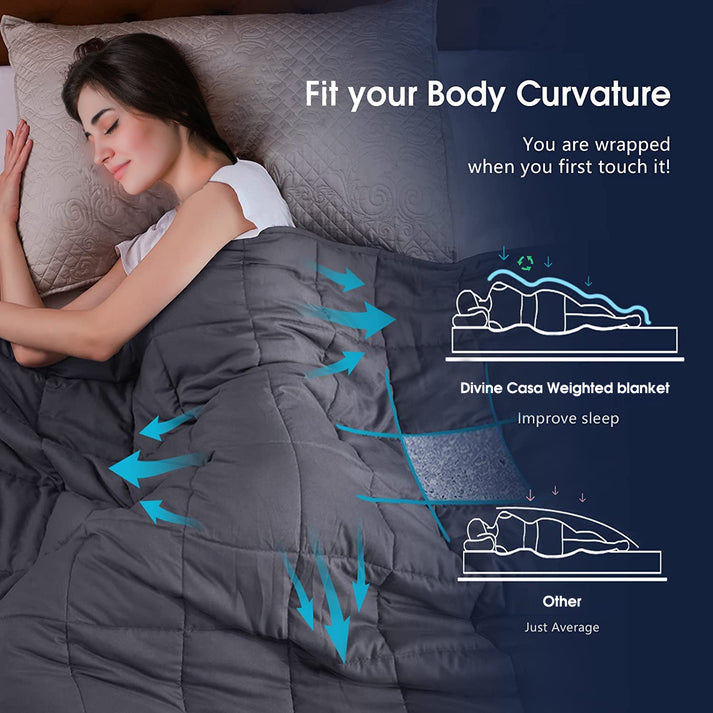 Our 5Kg Weighted Grey Blanket, crafted with premium glass beads and cotton material, goes beyond warmth. With therapeutic benefits promoting relaxation and calmness, this Weighted Comforter is not just a blanket; it's a holistic approach to a serene night's sleep.
In Conclusion: Divine Casa - You're Source for Winter Comfort
In the pursuit of the coziest winter comforters, Divine Casa emerges as a reliable and stylish choice. Each product is thoughtfully crafted to blend warmth, style, and functionality, ensuring a delightful winter sleep experience.
Dive into the world of Divine Casa and transform your nights into a haven of warmth and comfort. Indulge in the luxury of a good night's sleep with our carefully curated collection of winter-ready comforters.